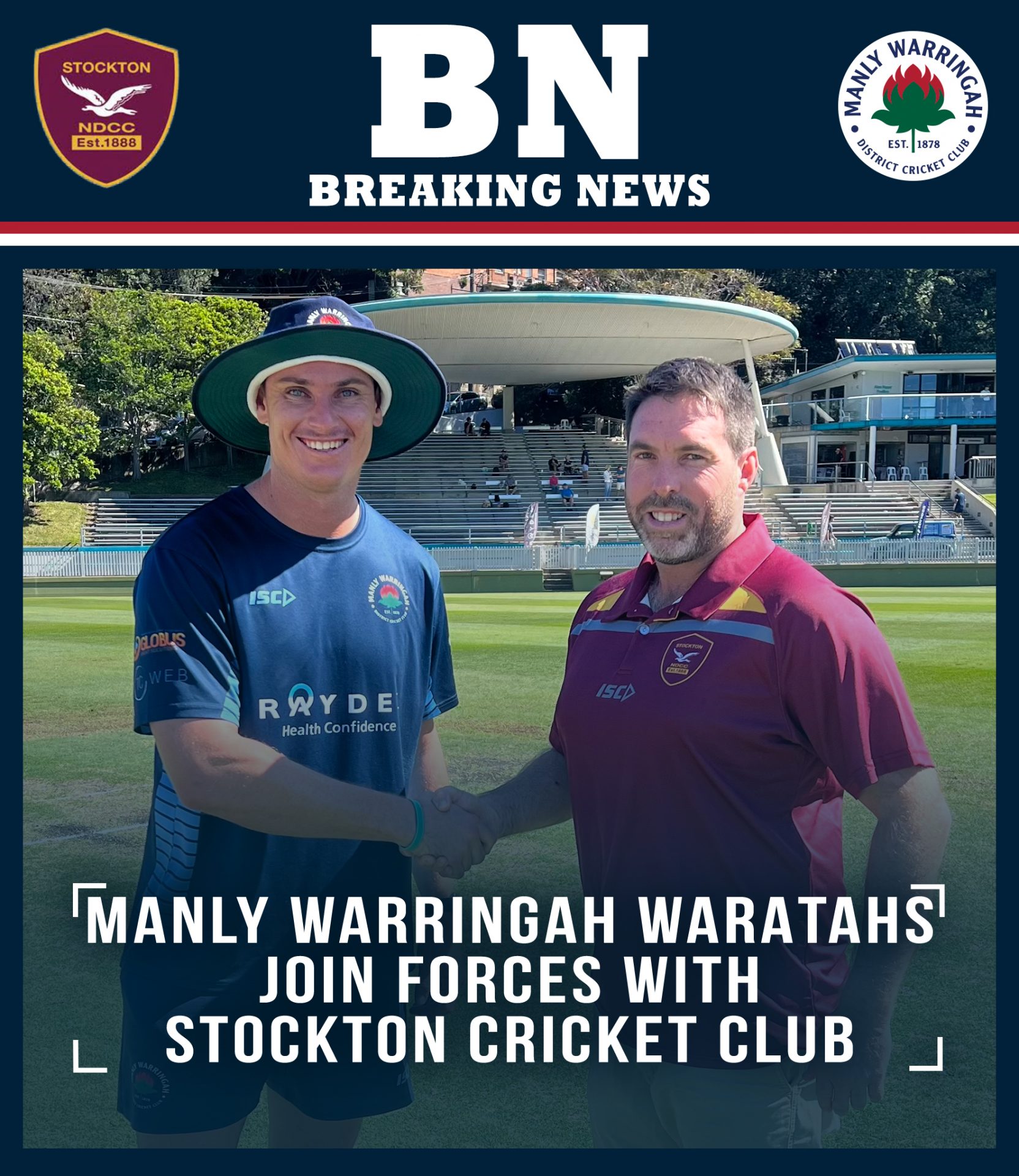 The Manly Warringah Waratahs have joined forces with Stockton and Northern Districts Cricket Club in a ground-breaking new partnership.
The 2 clubs have officially agreed to work together to ensure the long-term success of both organisations.
Stockton are one of the heavyweights of the Newcastle Cricket Competition, winning the 1st Grade Premiership in 2021/22 and finishing runners up in the Grand Final of 2022/23.
They are now consistently challenging for the Newcastle Club Championship, having last won it in 2020/21.
The partnership will involve the exchanging of ideas and resources, as well as the Waratahs visiting Stockton in the pre-season each year for a weekend of trials and coaching clinics.
It will also give Stockton juniors an opportunity to be involved in our Green Shield program each year, as well as members of the Stockton senior playing group being part of our pre-season training.
The Waratahs will also be providing players for the Newcastle T20 competition.
Director of Cricket David Gainsford has praised the partnership, telling us that it will help both clubs continue to grow and innovate.
"I've spoken at length with Stockton and the similarities between the 2 clubs run deep.
"There is a great sense of community, a great sense of culture, and ultimately a drive to make both the club and the individuals in it better.
"I've visited their set-up and it's very impressive. They have top quality facilities and are a very well run, professional club.
The talks began via Logan Weston, ex-Manly club favourite and now Stockton player after moving up to Newcastle last season. Logan played a huge part on Stockton's on field success last season.
However, the driving force behind the discussions on the Stockton side has been Nick Foster. Nick is the first Grade Captain as well as Club Captain and is a major part of the club's recent success both on and off the field.
"It's been a fantastic start to our relationship, I couldn't have been more impressed with the engagement from "Gainsy", said Nick.
"Both clubs are driven by sustained success and are hungry and willing to go the extra mile.
"Both clubs have a history of success, especially in the last few seasons. We believe that we can continue this success by building a long-lasting relationship.
The first visit to Stockton for the Manly Warringah Waratahs will be in September later this year as we prepare for the 2023/24 season.
You can visit Stockton at www.stocktoncricket.com