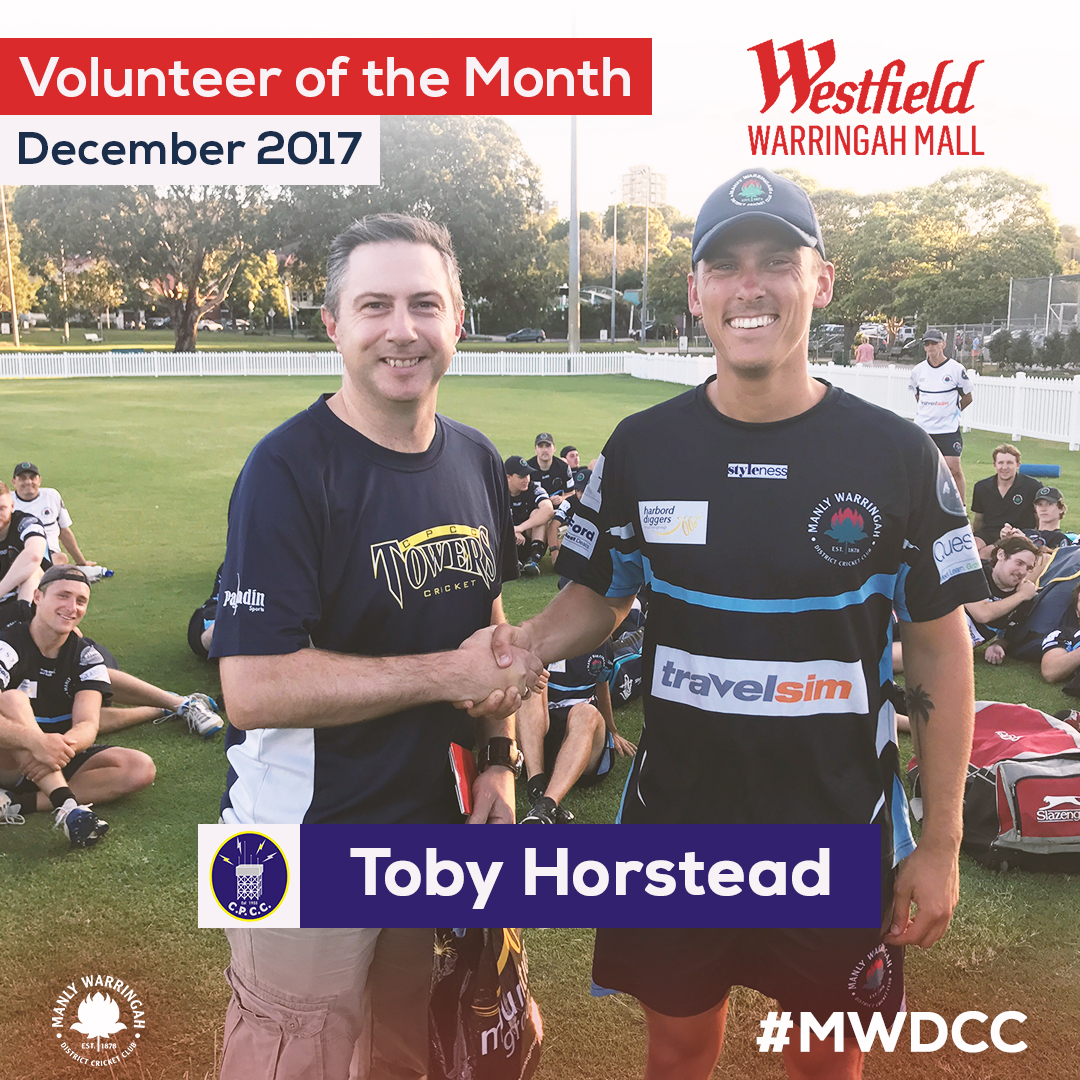 The Waratahs are proud to announce Toby Horsted as December's recipient of the Westfield Warringah Manly Junior Club Volunteer of the Month award.
This award is available to volunteers at all Manly Warringah Junior Clubs and is proudly sponsored by Westfield Warringah Mall.
Toby is a Life Member of the Collaroy Plateau Cricket Club and has been Club Treasurer and Senior Committee member for 13 years. In addition to this Toby has been a player at the club for a staggering 19 seasons. Toby is one of the most involved members of Collaroy Plateau CC, and has been involved in organising many club events in recent years, most significantly 3 CPCC International tours to the UK and another to Sri Lanka.
With his 2 children now playing cricket, Toby has also been involved for several years with CPCC's Juniors – running a range of programs including In2Cricket, Kangas, the U9's, U10's and now the rapidly-growing girls' game. It's safe to say that Toby has been right at the heart and soul of the Collaroy Plateau CC for over a decade!
In addition to his work at Collaroy Plateau CC, Toby's latest role has been taking on the Vice President position at MWJCA for 2017/18. One of his main tasks at this time has been Rules Coordinator, which has been a mammoth task with all of the new junior formats that has come into place this season.
In 2017/18 CA implemented significant junior format changes to all the state bodies which was correspondingly pushed out to MWJCA via Cricket NSW. The work involved to update and implement all of these rule changes (which includes rewriting the rules for U9, U10, U11/2 and the Girls) has been a major undertaking and Toby dedicated many weeks of effort in the lead up to the season and during the season to do this. His attention to detail has been amazing and we would have been in a lot of trouble implementing these changes without Toby's individual efforts.
Once again the Waratahs would like to thank our close friends at Westfield Warringah Mall who have come on-board to support the monthly winners. There is no doubt that they are a community organisation that is just as passionate as recognising local volunteers as we are, and are proud to be supporting the award through a $250 voucher for each months recipient.
We are proud to present Toby with this award for December, and it's safe to say that not many people deserve it more after the incredible contribution he has made to cricket on the Peninsula in recent years.
Congratulations Toby!