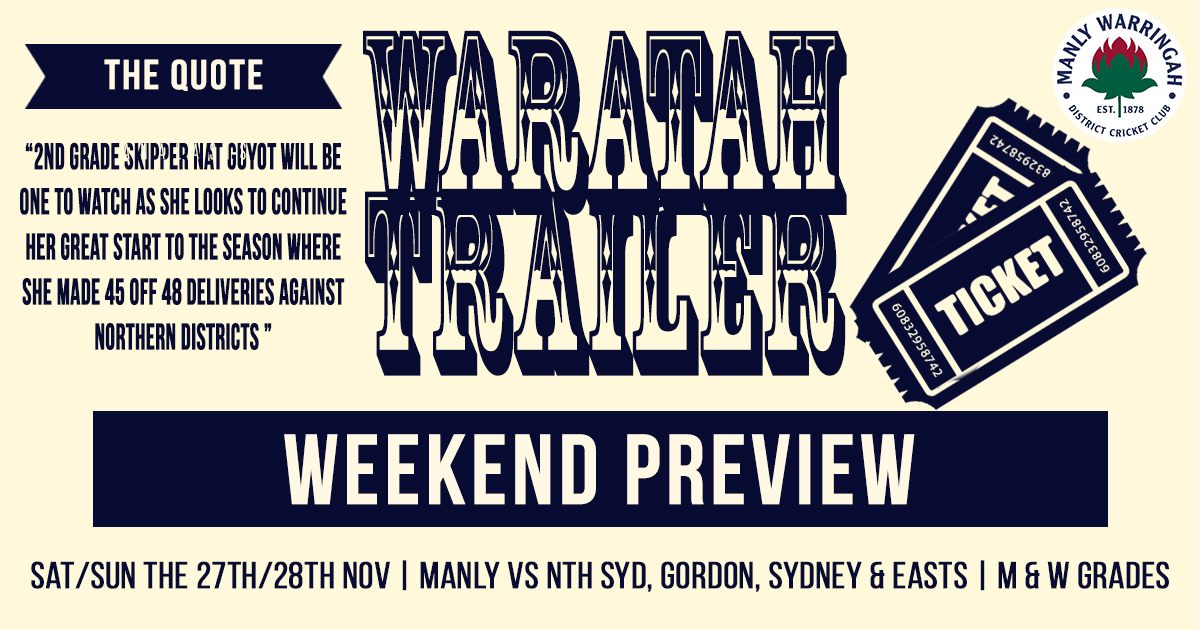 The mighty Tahs are coming off a strong weekend against Western Suburbs claiming 4/5 victories across the men's grades. Unfortunately, women's third grade went down to the hands of Gordon and all Sunday fixtures were abandoned due to rain.
Joel Davies scored a match winning 70 in just his second game of first grade, Matt Brewster blasted his way to 120 to help second grade chase down Wests score of 241, third grade had a day to forget at Grahams Reserve being bowled out for just 61, Keelan Mendel impressed in his fourth-grade debut with a classy 64, fifth grade skipper Reiley Dunlop was brilliant behind the stumps in his sides victory and Renee Hough's 27 off just 12 balls wasn't quite enough to chase down Gordons 144.
Women's first grade are eager to get back on the field after being washed out on Sunday. They will face Gordon at Atmosphere Park, Graham's reserve. The top four will again be exciting to watch after they put on a show against Northern Districts in round one. Saskia Horley faces her former club for the first time and will be looking to have another big impact on the result of the match.
Women's 2nd grade will host Gordon/North Sydney at Graham's reserve this Sunday afternoon as they look to back up their round one victory. Skipper Nat Guyot will be one to watch as she looks to continue her great start to the season where she made 45 off 48 deliveries against Northern Districts in round one. The bowling attack will once again be led by Mia Waddington who took an impressive 2/16 in round one.
Women's 3rd grade will be looking to get back in the winner's circle this weekend when they host the high-flying Sydney Cricket Club at Balgowlah Oval on Saturday afternoon.
Men's 1st grade claimed a much needed last over win over Wests in round 3 and will be looking to keep the momentum rolling when they welcome North Sydney to Manly Oval on Saturday. Tom Lammonby was impressive with the ball taking 2/26 and changing the game in the process, he also looked calm at the crease until his dismissal and looks primed for a big season with the Tahs. North Sydney are an extremely strong one day side and currently sit in 5th position. Their side includes former Waratahs Aiden Bariol and Matt Alexander as well as two of the most consistent batsmen in the competition in Tom Jagot and Justin Avendano.
2nd grade head to Tunks Park and will likely face a trio of former Manly players in Jacob Graham, Brad Wilson and Sam Alexander. Manly will be looking to continue their good form with the bat with the likes of Logan Weston and Sam Gainsford looking good at the crease just being unable to kick on and make a big score yet. Matt Brewster was damaging at the top against Wests and will be hopeful of a similar performance this weekend.
3rd grade will be looking to bounce back after a disappointing round two performance, they have a chance to go level on points with their opponents North Sydney on Saturday in a bid to kick start their season. Ellis Raymond has been in good touch with the bat in bis first season of grade cricket and a big score is just around the corner for the local junior.
4th grade will set out to make it three wins on the trot when they take on the winless North Sydney at Bon Andrews. Keelan Mendel looks to be a star of the future with his fearless batting and will be looking to continue his good run of form.
5th have had a fantastic start to the season sitting in outright first position under the new leadership of Reiley Dunlop, Reiley had this to say about how he is enjoying his new role. "I couldn't be prouder to be leading the 5th grade side this year. Captaining this side is truly a blessing, not only due to the abundant of cricket talent that is within this team, but because of the passion and energy every player brings to training and match day". They take on the Bears at Mike Pawley oval this Saturday looking to go 3/3, Reiley also had this to say about last weekend and for the future, "We bowled well with solid contributions from all the boys, what really stood out was the Waddington father/son 54 run partnership to finish off the game which truly emphasises how as a team we are going to stand up when it counts, play our best and win tough games".
To round off the weekend, the Tahs host a massive double header at Manly Oval this Sunday with PG's and 1st grade taking on Eastern Suburbs in a T20 double header. PG's kick off at 10am with 1st grade starting at 2:30pm.