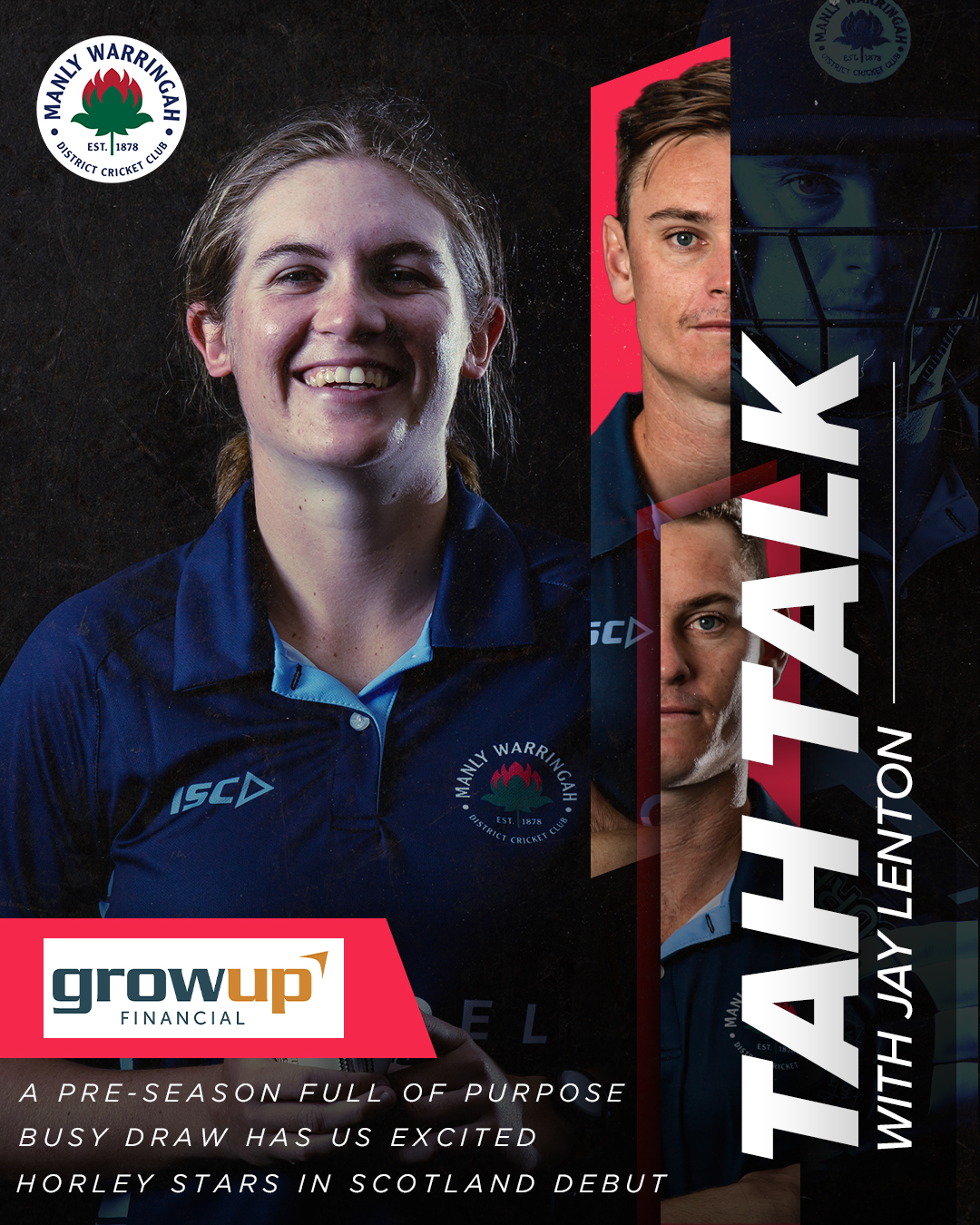 As the start of the season draws ever so near, we are pleased to present the very first Tah Talk for 2022/23, presented by our great friends at GrowUp Financial – www.growup.com.au
We are hopeful of bringing you some insight into our club each and every week.
With a season full of hope, the eternal optimist in us says that we are heading for a great year, while cautious about getting to far ahead of ourselves.
Over the coming weeks we will focus a bit more on the Men until the Women get underway in October, but we are excited about what both playing groups can do this year.
A PRE-SEASON FULL OF PURPOSE
Can you believe we're only a week away from pushing the start button on another cricket season?
As a Knights supporter, I am more than happy to say goodbye to the footy and raring to pull on the white (or blue) for the mighty Manly Waratahs.
Our pre-season has been a little disjointed, with several players across both our Men and Women enjoying the balmy 18-degree weather in England and playing cricket during our winter.
Along with the never-ending La Nina back here, it's caused a slight delay in the number of  training sessions we have had.
In saying that, we have made the most of our time together and, with some nice weather the last couple of weekends, have had a chance to get together and prepare well.
Twenty-five of our Men's players and coaches finally had the opportunity to head back up to Lake Macquarie post-Covid for our annual pre-season trip away last weekend.
Having so many of us together, playing cricket and spending time off the field, is always a wonderful thing for the shaping of a season and culture of the groups.
As we know, we lost the heart and soul of Manly Cricket Club following the sad passing of  Michael "Juice" Shepheard earlier in the year.
It has rocked us all.
Through the support of his wonderful family and the September foundation raising money for Cerebral Palsy, we were able to conduct a Jersey Night while watching Saturday night's NRL finals.
This raised an incredible $1500 for the charity. It was well worth it, even if we had to hear SOK bang on about how good the Rabbitohs are.
We have another full weekend of cricket coming, with 1st  and 2nd Grade playing NDs at home over the weekend and the remainder of the playing group heading up north to play our affiliate clubs in Northern Power CC (Central Coast) and Southern Lakes CC (Newcastle).
It's just the sort of preparation we need before getting into the real business.
BUSY DRAW HAS US EXCITED
It's exciting to see the draw out in its entirety, signalling the start of a new campaign.
Breaking it down, we have a busy schedule with Gordon at home a tough start to the year
Moving back to the traditional format this season with two-day cricket back, it will be interesting to see how quickly teams adapt to the red ball format.
We have a nice stretch of six weekends at home from the end of October to the start of December, which should prove a pivotal section of the season leading to Christmas.
There's never an easy game in Premier Cricket, so the excitement is certainly there for another cracking season.
The club is working with Juice's family on a few things to honour the great man before the round one fixture on September 24.
Not many people or things are irreplaceable, however Michael certainly is.
It will be a touching and emotional round one, however I know my mate will be in my ear all year through the good and the bad.
He will be with us all year.
HORLEY STARS IN SCOTLAND DEBUT
Getting Saskia Horley to the club last year was a masterstroke.
She broke all sorts of records as she ripped her way through every 1st Grade bowling attack in the competition.
Saskia has continued her hot run of form with a debut international half century for Scotland against Ireland.
She followed it up with an equally impressive 44 in Game 2, and although game 3 was abandoned without a ball being bowled, there is no doubt she is hitting the ball beautifully.
With Saskia back in the NSW squad for the coming season, both myself and W1s skipper Mikaela Turik are hoping to see less and less of her with the Waratah on her shirt, and more of the NSW blue.
Until next time
Jay Lenton – Manly Warringah Waratahs 1st Grade Captain