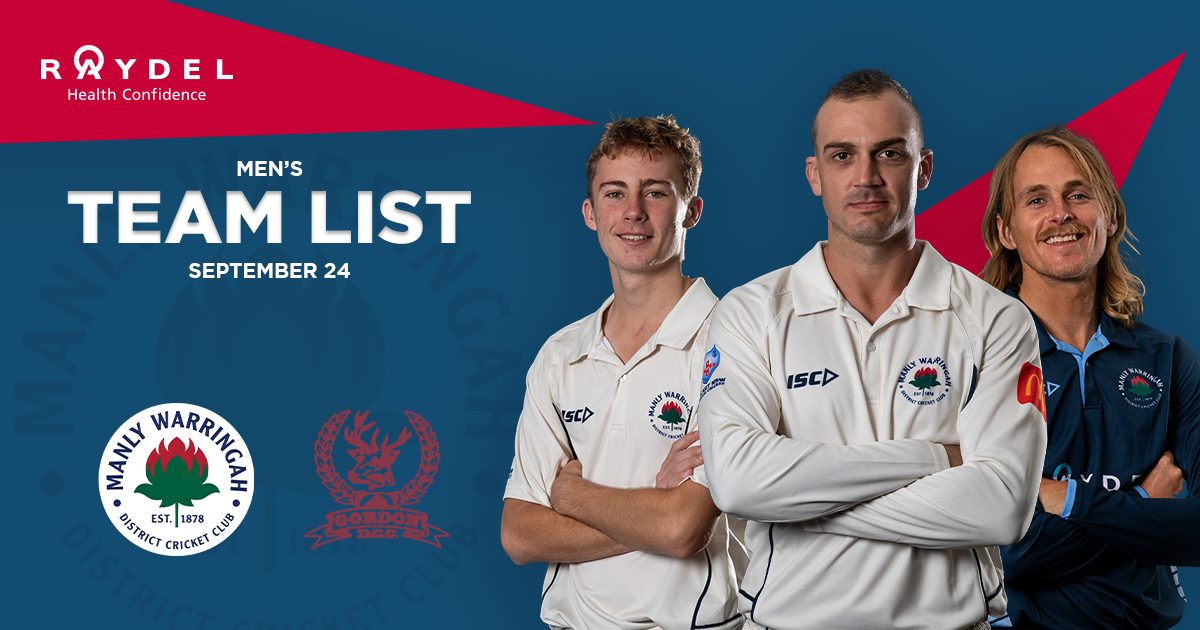 The long awaited return of NSW premier cricket is finally upon us, an exciting prospect considering the unideal weather conditions and disrupted pre season. The 2022/23 season brings us many fresh and familiar faces, as the men's sides will look to come out firing. Gordon is first up on the 2022/23 calendar, with one dayers being played across all five grades.
1st Grade look an almost identical side to last season, with no debutants featuring in the first round this year. This shows the depth and talent this side possesses, as skipper Lenton looks to guide his side to higher honours this year. 2nd grade have a number of new starters, with Mendel, Coyte, Dhillon and Hicks all returning to the side after being mainstays in lower grades last year, or taking a hiatus for a season. 3's also make several new changes from last season, with young gun Boulton returning to 3's after an injury plagued season, along with two debutants in cult hero Oscar Lucius and country boy Matt Sunshine.
4th grade welcome the expertise of Jason Pereira, along with Cummings, Williams and Noacke who all make their debut in 4's, with Noacke making his club debut as well. 5's are yet to decide on a starting XI, however could home any number of debutants as skipper Waddington has a great depth of young talent to select from.
Good Luck to all teams, Go Manly!
Men's First Grade – One Day Match
Round 1 vs Gordon @ Manly Oval
9:30am start
1. Ahillen Beadle
2. Joel Foster
3. Jay Lenton (c)(+)
4. Ryan Farrell
5. Joel Davies
6. Ben Bryant
7. Elliot Herd
8. Ryan Hadley
9. Josh Seward
10. Jake Carden
11. Steve O'Keefe
Men's Second Grade – One Day Match
Round 1 vs Gordon @ Chatswood Oval
9:30am start
1. Ned Hole
2. Lachlan Coyte (+)
3. Jacob O'Sullivan
4. Isaiah Vumbaca
5. Jordan Daly
6. Bryn Mendel
7. Tom Kaye
8. Roop Dhillon
9. Andrew Jamieson (c)
10. Andrew Hicks
11. Josh Wigney
Men's Third Grade – One Day Match
Round 1 vs Gordon @ Grahams Reserve
9:30am start
1. Sam Hole (c)
2. Neal Prowse
3. Lachlan Charles
4. Andrew Boulton
5. Zach Trewartha
6. Sam Gainsford
7. Oscar Lucius (+)
8. Evan Dunnachie
9. Lachlan Trewartha
10. Matthew Sunshine
11. Michael Counsell
Men's Fourth Grade – One Day Match
Round 1 vs Gordon @ Beauchamp Oval
9:30am start
1. Dom Wheeler
2. Reiley Dunlop (+)
3. Jason Pereira
4. Jake Hutchings
5. Will Akhurst
6. Josh Cooper
7. Andrew Rochford (c)
8. Fraser Noacke
9. George Cumming
10. Hayden Williams
11. James Waddington
Men's Fifth Grade  Squad– One Day Match
Round 1 vs Gordon @ Mike Pawley Oval
9:30am start
1. Keelan Mendel
2. Ollie Melville
3. Chris Halloran
4. Simon Waddington
5. Raja Ganeshraj
6. Josh Lawson
7. Matt Evans
8. Jack Donnan
9. Will Matheson
10. Reuben Kapoor (+)
11. Preston Lee
12. Julian Osbourne
13. Lukas Overhoff
14. Flynn Pavely