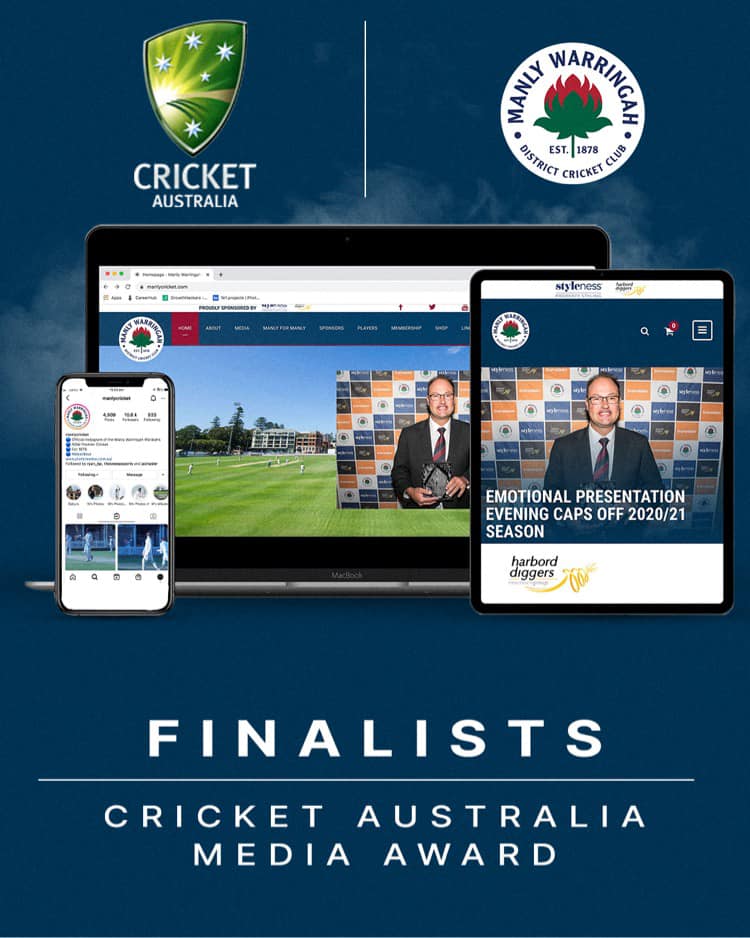 The Manly Warringah Waratahs are pleased to announce that our media team have been nominated for a major award at Cricket Australia's Community Cricket Awards.
Manly have been announced as a finalist in the Technology & Media Initiative of the Year category after dozens of entries from across the country were whittled to just two.
We are in contention as a result of our player driven program with 23 players part of the 26 person team in 2020/21, as well as for a strategy that links community, culture, commercial as well as good old fashion cricket.
Waratahs president Andrew Fraser is delighted to for the club and the media team to be nominated for this award. 
"Our media team have worked really hard to build our social media platforms in recent years. This award nomination is a wonderful reward for their efforts.
"Whilst the Board is responsible for the management of the club, we have always encouraged the players to take some ownership. With 23 players as part of our media team now, they have done exactly that and we are so proud of their enormous contributions.
"It's so refreshing to see so many young people volunteering their time to give back to the club and the community," Fraser said.
It's especially pleasing since we actually straddle the professional and amateur cricket landscapes.
The media team's desire to keep pushing the line of professional and amateaur cricket was most recently seen in our assitance in organising Kayo to broadcast the 1st Grade One Day quarter final fixture between Manly and Fairfield Liverpool at Manly Oval.
The exposure for NSW Premier Cricket was unprecedented, being the first time Premier Cricket had been shown by one of the major media platforms, whilst also highlighting the incredible standard of cricket that is played in the competition and offering greater commercial opportunities for the clubs and their partners.
Media Manager, Joel Mason, was thrilled when the nomination was announced, and was thankful for every persons involvement over the last couple of years.
"Doesn't matter how small a job someone has, whether it's updating the 100s and 5fas on the website to the work that people like Sam Webber has done over many years, many hands make light work, so the support that the players have all provided not just this year but historically is why we are up for this award."
The nomination was also endorsed by Cricket NSW CEO, who said:
"In this state there are many, many wonderful contributors to cricket and for the Manly Warringah club to put so much effort into planning their social media strategy, and then execute this initiative with such success is a great example of that."
The final is being held via a virtual award ceremony for all community club awards on Thursday 20th May.
Congratulations to all members involved in the media team over the past couple of years, particularly Joel Mason and Sam Webber for all of their amazing work!
Let's hope we can take home the award on Thursday Night.