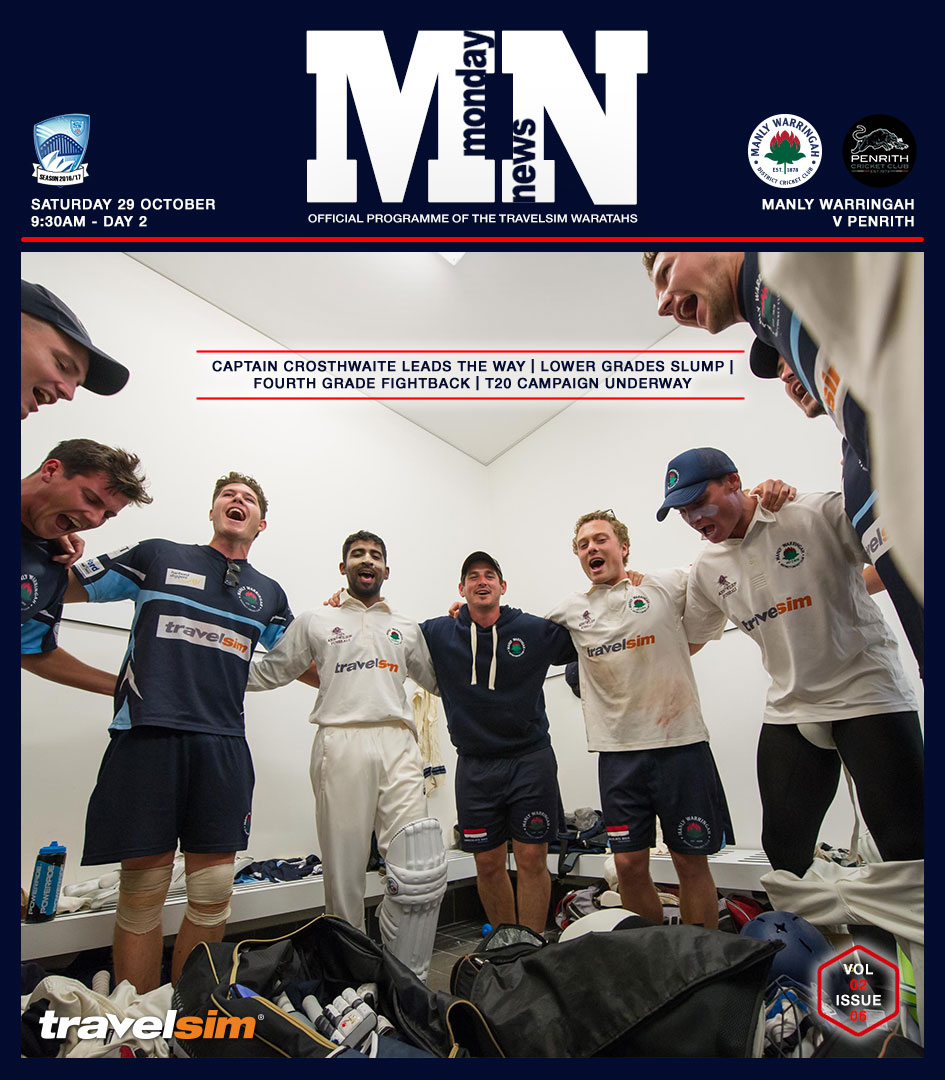 Round 4 saw the Tahs up against Penrith, the reigning Club Champions. It was a frustrating round in relation to the weather due to the fact that 1s, 2s and 4s all didn't get on in week 1. We ended up winning First Grade, drawing in Fourth Grade and losing quite convincing in 2s, 3s, and 5s. Highlights of the round were Adam Crosthwaite's 103*, Jarrod Rawlings' 47*, Matty White's 4fa in 1s, Jake Carden's and Dylan Marshall's 3fa's in 2s, Aiden Bariol continuing his rich run of form in the second innings of 3rd grades loss to post an unbeaten 51, some lower order fight in fourth grade, and also a hat-trick from Archer to clean up the tail in 5s. We go up against Sutherland next week in a 2-dayer with 2s and 4s playing at home.
Up the Tahs!
4 Pines Player of the Week – Adam Crosthwaite
What a player! Crossy showed his class and skill on Saturday with a superb 103* to lead First Grade to their second win of the year. He combined with Jarrod Rawlings for an unbeaten 157 run partnership. It was a terrific captains knock that included patience and execution, and a knock that won't be forgotten any time soon. If Crossy continues this form, the Tahs are in for a mighty year.

Congrats mate, another big year for you this season!

1st Grade – Manly 1-168 (A.Crosthwaite 103*, J.Rawlings 47*) def Penrith 166 (M.White 4-47, M.Visser 3-49)
After a quick start from the first few overs by Penrith White got one of the openers feathered behind which was closely followed by Visser dismissing the dangerous Dibartolo for 18 by a stunning running back catch by Logan at deep cover. Whitey got his second getting a lollipop catch to Gully. What followed this can only be described as village. Their number 5 batsman came out with his phone in his pocket which was hysterical and about 4 balls later he decided to leave one on off stump to give Whitey his third. To add insult to injury the umpire gave him his phone back as he was walking off. With Gibson still in we knew anything could happen. Even though we had taken a lot of wickets the run rate in which Penrith had been going at was unacceptable. After lunch we knew the importance of taking the last 3 wickets to make our chase that much easier. This was successfully done by Beatty and Beadle.
Our run chase got off to a poor start when J.Crosthwaite was caught by a sharp catch at gully for 5 to leave us 1-11. In came the skipper and after dealing with the dangerous Lalor and the new ball we finished with 1-168 with Adam taking the lead with 103* and showing his class. This was well supported by Rawlings who finished with 47*. A much needed win after our flogging against Sydney University. We are now 2-2 with the hardest rounds out of the way.
Rawlings
Click on the images below for a larger view
"Jarrod Rawlings looked solid with the stick as he knocked 47*"
"Smiles all-round as the boys finished up in the field, Penrith all out for 166"
| | |
| --- | --- |
| | |
| "Adam Crosthwaite with a match winning century to secure the 6 points" | "Ahillen Beadle asking the question as he rips one into the Penrith front pad" |
2nd Grade – Manly 80 (J Edwards 27) def by Penrith 186 (J Carden 3/16, D Marshall 3/40, J Graham 2/58)
Arriving at Penrith for the 120 over day the pitch was a tad green and with overcast conditions Jack won the toss and decided to bowl. Josh Wigney and Jake Carden opened up and were bowling some good lines with the ball moving around a lot and both were unlucky not to get a wicket with a lot of half chances not going our way. Tom Kaye came into the attack and took the first wicket, with good pressure bowling. With a slow scoring rate from Penrith, the boys were in the grind and were taking wickets through patience and building the pressure. All bowlers bowled well keeping it simple and in the end Dylan Marshall and Jake finished with three wickets each, and Penrith were bowled out for 186 of 70 overs.
We started our batting losing two early ones before Jack Edwards and Jack Ritchie consolidated a bit before, with Edwards making a nice 30 in tough conditions for batting. Unfortunately Ritchie got a good one just after tea, and soon after a big strike of lightning resulted in a 45 minute delay. Coming into the sheds for this break the boys felt good and were confident of chasing down the rest of the runs. Unfortunately the momentum completely changed and wickets began falling quickly with Penrith bowling well and well and truly on top, after we lost 6-15. The tail managed to dig in for a bit at the end, delaying the finish of the match, but in the end we were all out for 80, a disappointing result after a strong bowling and fielding performance in the morning.
Despite a bad loss the boys can take some positives out of the game and know we will be able to learn for this game and be back stronger next week.
Josh Wigney
3rd Grade – Manly 116 & 1/108 (A Bariol 51*, O Davies 41*) def by Penrith 5/191
Despite a bit of water getting under the covers 3rd grade had a huge task to get points out of the game. A delayed start to let the surface water dry up meant the pitch was flat and basically we were hopeful of a smart declaration from Penrith but that was not the case.
Michael Counsel (0/19) was promoted to 3rds based on his good net form but on the slow pitch he dropped a little too short but did bowl with some pace. RBP bowled nicely but neither bowler was able to get the breakthrough. Evans (1/22) and Issy (1/40) trundled as did the unlucky Wilson who went for plenty in his last over, a lot of the runs coming from the 3 dropped catches he experienced. Two of them would have been good catches and one of them fairly basic but that's what happens when you have had a loss.
Before the day got under way we had a chat to Penrith with the hope they'd be up for easy, quick runs to leave 70 odd overs to get an outright for one or the other. It was met with an unsupportive " We'll see how it goes". That doesn't help and just sucks up overs. Anyway they made a strange declaration mid session (therefore losing 4 overs if they did bowl us out) rather than bat through and maybe declare just before tea, not lose overs and give themselves 40 odd overs. Anyway, with a mere 75 run lead, 54 overs left, it meant for a nothing day as we were never going to collapse on the flat deck. Wolter (14) was bowled but that was the only blemish as Bariol (51no) again batted beautifully. Davies (41no) struck some big bombs and looked good as well. We finished 1/108 from 24 overs and probably the best lesson from the game was if MPO looks a bit fresh like it did it's worth a bowl. Thankfully we did lose the toss but would have batted.
Wazza
4th Grade – Manly 149 (E Hole 53, A Gummer 22, B Falconer 20, S Alexander 18*) drew Penrith 6/116 (A Bain 2/4, B Falconer 2/17)
After no play on Day 1, Fourth grade were in for a long day with 120 overs on Day 2. Skipper Max Burgess lost his fourth toss in as many starts and we were sent into bat.
Nick Cohen was the first wicket to fall for not many runs after edging one to gully. Captain Max Burgess came and went after another edge to slips. Wickets continued to fall with Ned Hole the only middle order batsmen showing some fight. Ned was joined at the crease by Sam Alexander who played the innings of his life managing to play out some good bowling by Penrith. Ned brought up his 50 as the pair added 60 runs together to dig manly out of a hole. Ned's innings came to end, Ben Falconer joined Samoz at the crease and the pair continued to push singles and hit the occasional boundary. Falconer played a superb innings of 20 before being caught behind. Unfortunately, Alex Bain couldn't add to the score and the boys were bowled out for 149. Credit goes to Ned Hole, Sam Alexander and Ben Falconer who showed great determination and patience to dig the boys out of a hole.
Dan McKenna and Ben Falconer opened the bowling. The Penrith batsmen came hard early and DMac was able to strike early just before tea with the opener missing a straight one and given out LBW. Ben Falconer continued after tea and was able to pick up two wickets in the first over back. Unfortunately play was brought to a halt after lightning forced play to come to a short stop. The covers were left off and the rain fell consistently for half an hour.
Play then resumed on a muddy and wet wicket. Wickets continued to fall regularly with Sam Alexander and Alex Bain picking up wickets. As light continued to fade the Penrith batsmen dug in and played out for a draw.
Although it was disappointing not to pick up 6 points it showed great coverage to come back from 7-60 and play out for a draw.
4th grade look to turn things around next week against Sutherland at home.
Daniel McKenna
5th Grade – Manly 70 & 8/189 (M Brewster, H Brown 21*, S Waddington 20*) def by Penrith 202 (G Archer 3/28, W Akhurst 2/23)
We arrived at Manly oval to plenty of sunshine and the news that Penrith would carry on batting.
Determined to fight back after a poor first day Glynn and Haydos were thrown the ball to open up the attack for the day. After some streaky shots by their tail enders Glynn finally found a break through after some unfortunate bowling. He then proceeded to remove their number 10 first ball to be on a Hat Trick to finish of the innings Glynn ended the innings with a hat trick having their number 11 caught at 2nd slip by Will Akhurst. A good reward for some top bowling.
Will Outred and Jonah then opened the batting and after Jonah fell to a bad decision early we were 1 for not many. Dom then joined Outred and they grafted away for a while before Dom was caught in the gully. Akhurst then joined Outred and after a steady partnership Will Outred was also caught behind the wicket to the only loose shot that he had played all day. Jacob then came to the crease and batted excellently for his 25 before being run out in an unfortunate manner. We proceeded to lose Akhurst and then a solid partnership between Brewster and Lachie settled the nerves. When Brewster fell to a loose shot Hayden joined Lachie Kerr before Lachie decided he wanted to join Matt in the sheds and got out as well. Waddo and Haydos then once again steadied the ship leaving us 8 down at the end of the match.
The boys took many positives out of the day, some good fielding and bowling in the morning especially Glynn Archer with his first Hat Trick well deserved and then Lachie Kerr with the bat getting some solid runs.
Matt Brewster
Hardboard Diggers Team of the Round
After a quick start from the first few overs by Penrith White got one of the openers feathered behind which was closely followed by Visser dismissing the dangerous Dibartolo for 18 by a stunning running back catch by Logan at deep cover">Our Harbord a Diggers Team of the Week see's a combination of players from across the grades. Rawlings and Bariol open up with Bariol hitting a half century in the 1st AND 2nd innings of the first grade game, while Rawlings was his typical self in a patient 47*.
Adam Crosthwaite picks himself at 3 while Ned Hole was a rock in the middle order for 4th grade. Ollie Davies showed his class in 3rd grades 2nd dig, while Jimmie Crombie gets the nod at 6 after holding the 3rd grade innings together.
Jay Lenton didn't get a chance with the bat but picked up 3 stars behind the stumps and was his usual energetic self. The bowling attack of White, Visser and Archer picks itself, and it's great to see Dylan Marshall getting the spinners nod with 5 wickets across 2nd and 3rd grade.