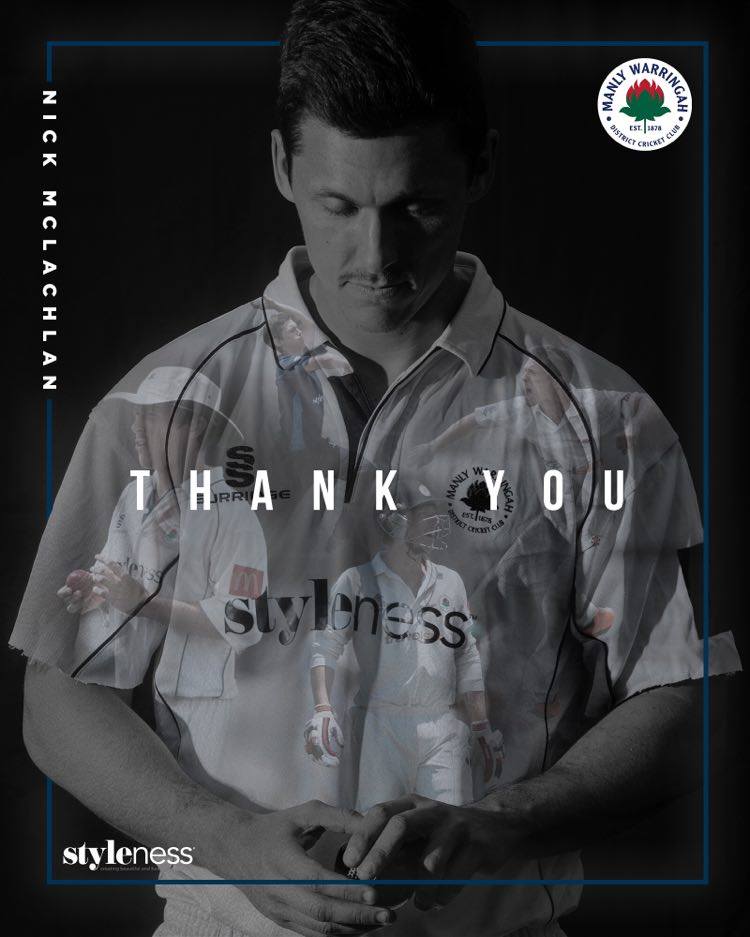 Manly Cricket would like to thank Nick McLachlan on an incredible career with the Tah's, and wish him the best as he moves to the United States for work.
A Manly junior, McLachlan first played Grade for Manly during the 2007/08 season.
From here, McLachlan rose up the ranks, making his way into the first grade side, where he would make his first grade debut in 2011/12 season.
Following this season, Nick would become a mainstay of the first grade side, and one of the teams best and most important bowlers.
This was most evident during the 2014/15 season, when Manly won the First Grade premiership, in which Nick was an integral part of.
"The way we trained, executed and enjoyed that season was just unreal to be a part of and it was great to contribute to the success," said McLachlan.
During this season, McLachlan was the leading wicket taker in 1st grade, taking an incredible 59 wickets across all formats, including three 5 wicket hauls.
Nick was also named as the Manly Senior Player of the Year, as well as being picked up in the Sydney Sixers Academy, as a result of strong years in first grade.
In 2018/19, following injuries and surgery, Nick stepped back from higher grade cricket, and took up the role of captain of third grade.
On his decision to take up the captaincy, Nick said, "Having surgery in 2016 gave me a different perspective on how I coud pass on the knowledge I had received on to the others coming through the grades."
Nick showed great experience, and leadership during this time, and has led a dominant 3s side who have been playing some fantastic cricket.
Nick has also built a strong and enjoyable culture in the third grade side, and he will be sorely missed by the 3rd grade squad.
"Leading the 3rd Grade side over the last two years were some of the most enjoyable times I've had at the club."
Whilst captaining 3s, Nick, a traditional number 11, improved his batting immensly, batting within the top 6 numerous times, and playing some crucial innings to save 3s.
When speaking of his time at Manly, Nick spoke fondly of the high quality of leaders that have been at and currently are at the club, and how he aimed to pass these qualities on.
"I was incredibly lucky to be captained, coached and mentored by so many great leaders, who shaped me as a player and a person, which is what makes this club so great," said McLachlan.
"I always felt like I was challenged and improving as a player and person, which made it so valuable and hopefully something I was able to pass on."
Nick will finish his time at Manly with an incredible 369 wickets, including 159 1st grade wickets. This included 12 five wicket hauls, 7 of these coming in 1st Grade.
Congratulations Nick on a magnificient career with Manly Cricket.
We thank you for everything you have contributed to Manly Cricket and we wish you the best over in the US.
See below for Nick's career statistics for Manly.
Bowling
Season
Matches
Runs
Wickets
Ave
5WI
Best Bowling
2019-20
12
318
21
15.14
1
5/21
2018-19
18
520
35
14.86
0
4/39
2017-18
19
824
27
30.52
1
5/20
2016-17
9
86
4
21.50
0
2/16
2015-16
20
986
32
30.81
1
5/38
2014-15
26
906
59
15.36
3
5/27
2013-14
22
795
42
18.93
2
7/37
2012-13
20
783
30
26.10
1
6/48
2011-12
19
672
39
17.23
0
4/50
2010-11
16
463
22
21.05
0
3/26
2009-10
14
572
22
26.00
1
5/62
2008-09
0
529
30
17.63
2
5/24
2007-08
0
93
6
15.50
0
2/12
Total
195
7,547
369
20.82
12
7/37
Batting
| | | | | | | | |
| --- | --- | --- | --- | --- | --- | --- | --- |
| Season | Matches | Innings | NO | 50s | HS | Runs | Ave |
| 2019-20 | 12 | 10 | 4 | 0 | 39* | 137 | 22.83 |
| 2018-19 | 18 | 9 | 5 | 1 | 63 | 197 | 49.25 |
| 2017-18 | 19 | 14 | 5 | 0 | 29 | 163 | 18.11 |
| 2016-17 | 9 | 7 | 0 | 0 | 17 | 62 | 8.86 |
| 2015-16 | 20 | 10 | 6 | 0 | 32 | 73 | 18.25 |
| 2014-15 | 26 | 10 | 4 | 0 | 18 | 73 | 12.17 |
| 2013-14 | 22 | 15 | 4 | 0 | 27 | 147 | 13.36 |
| 2012-13 | 20 | 11 | 5 | 0 | 25 | 91 | 15.17 |
| 2011-12 | 19 | 14 | 7 | 0 | 19 | 79 | 11.29 |
| 2010-11 | 16 | 11 | 6 | 0 | 0.34 | 60 | 12 |
| 2009-10 | 14 | 10 | 6 | 0 | 18 | 38 | 9.5 |
| 2008-09 | 0 | 13 | 6 | 0 | 12 | 32 | 4.57 |
| 2007-08 | 0 | 1 | 0 | 0 | 0 | 0 | 0 |
| Total | 195 | 135 | 58 | 1 | 63 | 1,152 | 15.03 |