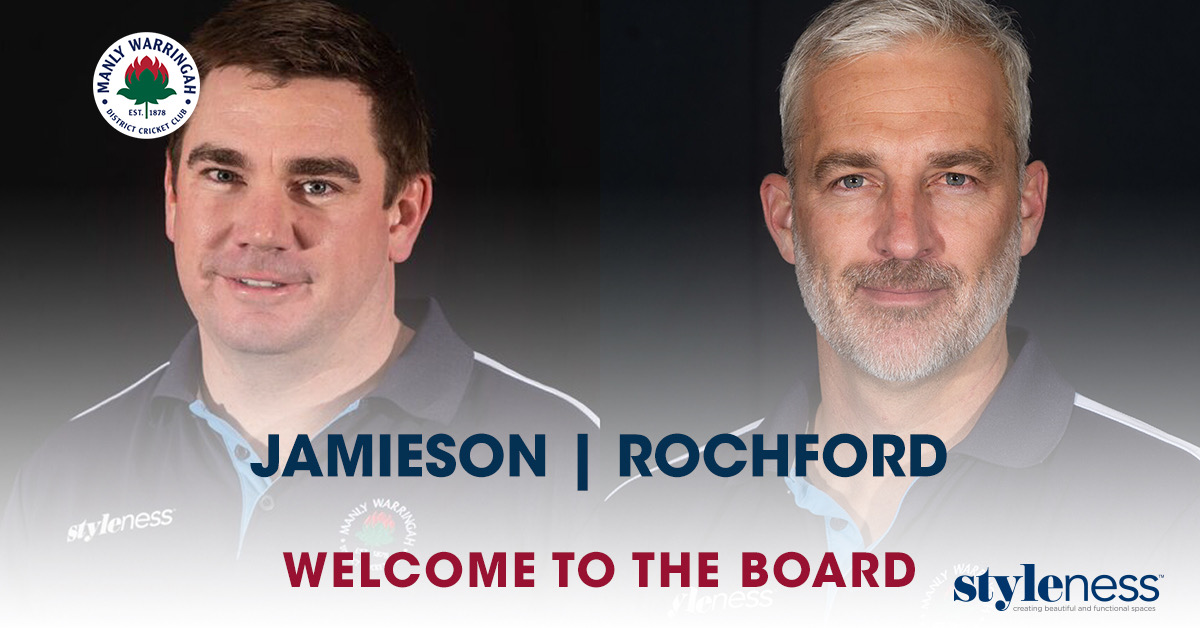 Manly Warringah Waratahs President Andrew Fraser has welcomed Andrew Jamieson and Andrew Rochford onto the Board at Sunday's AGM in changes for the 2020/21 season.
The announcement was made at yesterday's Annual General Meeting, held remotely via a Zoom call for the first time in the club's history.
It was confirmed at the AGM that Rochford and Jamieson will step in to replace the outgoing Mick Trevaskis and Chris O'Sullivan.
The clubs Board has been remarkably stable for the last decade or so and despite the 2 new appointments, the club will retain the majority of the 2019/20 Board.
Andrew Rochford comes on as the new Pathway Manager, working with our colleagues at Warringah Cricket Club, Manly Warringah Junior Cricket Association and Manly Warringah Cricket Association. His focus will be on making sure our strong pathway continues to benefit all parties.
Similarly, Andrew Jamieson has also been welcomed to the Board and will be taking on the accountability of both our male and female club captains, and will be their representation on the Board.
Both Jamieson and Rochford will retain their captain duties in 2nd Grade and 5th Grade respectively.
Andrew Fraser, who was elected for his 17th term as Club President, welcomed both newcomers to the club's management team.
"We are fortunate to have the calibre of people such as Andrew Rochford and Andrew Jamieson coming onto our Board. They add to our already impressive list of people managing our club and contributing to Northern Beaches Cricket", said Fraser.
"Both guys have a wealth of experience in both cricket and leadership. So we are excited about their respective appointments to the Board, as they will no doubt bring some fresh ideas that will continue to improve our club."
Jamieson and Rochford replace Mick Trevaskis and Chris O'Sullivan who have contributed an enormous amount to the Manly Warringah Waratahs over many years, and will continue to do so into the future.
Chris has been our gear and clothing manager for the last 3 years and has been instrumental in driving a large amount of change during that time. He has great cricket knowledge having played 1st grade cricket in Melbourne, and will be missed.
Mick has been on the board since 2015/16 and has provided the club with a great amount of leadership and commercial guidance over that time. However, Mick will continue in this role in an unofficial capacity for the club moving forward, so his expertise will not be lost.
Fraser paid tribute to both clubmen.
"I have personally worked alongside 'Sully' for the last few years and he always brought so much passion for his role with the club. He worked really hard to transform our clothing over the last few years into one of the best programs in Premier Grade cricket".
"Although Mick has stepped away as an official Board member, he still has a very keen interest in helping the club moving forward. He will continue to play a leadership and mentoring role for our playing group."
Former NSW Premier Mike Baird AO, Northern Beaches Mayor Michael Regan and Manly MP James Griffin were again elected as club patrons.
Click here to view our entire Board and Patrons for the 2020/21 season.